Baseball Boys Varsity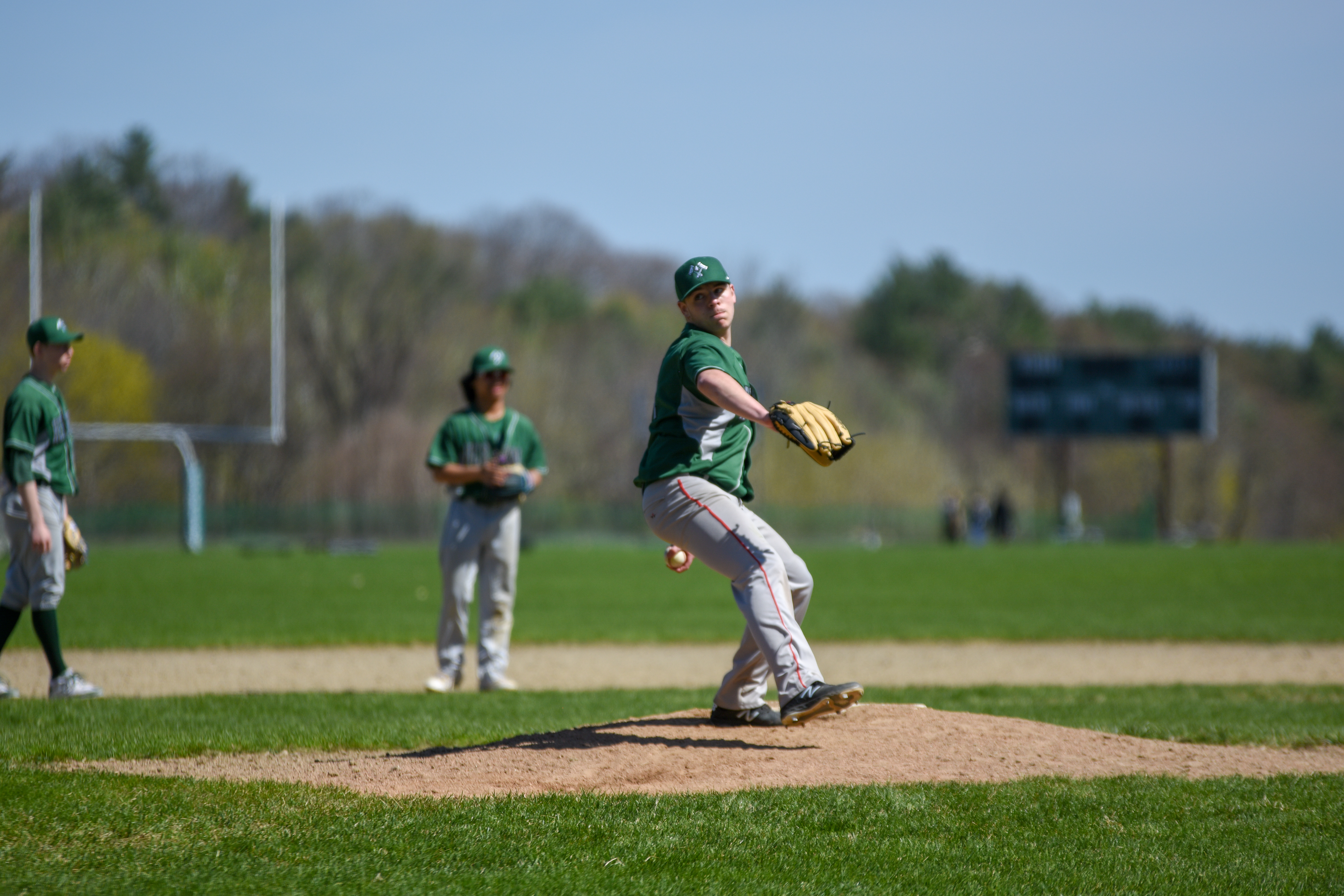 As the first team sport played at Hebron Academy, the baseball program has a long and rich history dating back to the early days of the game itself in the 1870's. The biggest figure in the younger days of the program was Danny MacFayden who, after attending Hebron, pitched for 17 MLB seasons. One of his many notable accomplishments was his 4-hit shutout against the stacked "Murderer's Row" lineup of the New York Yankees in 1929. MacFayden later came back to coach at Hebron Academy at the conclusion of his MLB career.
The varsity team competes in the small, but competitive, MAISAD conference alongside Gould Academy and Kents Hill School. The varsity squad also plays games against Lakes Region schools like Proctor Academy and New Hampton School. An emphasis is placed on keeping players' arms healthy and the team works with specialists from the Central Maine Conditioning Clinic on a weekly basis to improve flexibility, strength, and explosiveness. Being located in Maine has its challenges, but incredible indoor facilities including two indoor batting cages, a portable pitching mound, and lots of open gym space make the early part of the season productive. The recent addition of a turf football/field hockey/lacrosse field has also allowed the baseball team to get out and take fly balls earlier in the spring, and an incredible grounds crew has the diamond ready to go at the earliest possible moment.
Currently several former Hebron students are playing at the college level and more Lumberjacks look to follow suit to continue their baseball careers in college over the next few years. Hebron is an excellent place to gain experience in playing baseball against high-level competition.
| # | Name | Class |
| --- | --- | --- |
| | Javier Acha Urien | 2022 |
| | Thomas Crawford | |
| | Caden Dufour | 2024 |
| | Vincent Fugere | |
| | John Gendron | 2025 |
| | Emmett Grover | |
| | Emmit Hatch | 2025 |
| | Mason Hatfield | 2024 |
| | Brody Hathorne | |
| | Tucker Kenney | 2024 |
| | Pedro Latasa | |
| | Mathias Ouellet | |
| | Cale Proctor | 2026 |
| | Jacob Small | 2024 |
| | Masayuki Takabayashi | 2022 |
| | Caden Violette | |
Mr. Barr joined the Hebron Academy in 2019 with more than thirteen years of experience in college admissions and high school college counseling. He started his career in college admissions at UMass-Amherst as an Assistant Director of Admissions and also has college admissions experience overseeing New England Regional Recruitment at University of Delaware where he reviewed nearly 2,000 applications a year from students all over New England. Mr. Barr has spent the majority of his time on the high school side guiding families through the college application process including as Director of College Counseling at an independent high school outside of Washington D.C and at a public high school north of Boston, Massachusetts as well as at private high school in New York City and Miami, FL.


Mr. Brad Cummings started teaching Entrepreneurship in 2011 after working 25 years in the manufacturing industry. He also teaches ESL and is Co-Director of International Student Programs.

Mr. Cummings is a member of the football coaching staff. He also coaches the boys' JV basketball and baseball teams.

A graduate of Bowdoin College, Mr. Cummings lives in Norway, Maine and is married to longtime Hebron teacher Ms. Cynthia Reedy. They have 3 children: Charles '07, Claire '09, and Thomas '11.

A graduate of Bates College, Mr. Alex Godomsky has been at Hebron since 1997 and served in many roles, including Director of Information Technology, teacher and athletic trainer.

Mr. Godomsky lives in Dunham House with his wife Jen, Director of Hebron's Health Center, their three sons, and lab Manny. Mr. Godomsky enjoys fishing, skiing, woodworking, and spending time with family.

I am currently the Assistant Athletic Director, PG Program Director, and Travel Coordinator at Hebron. I am also an advisor, three-sport coach (soccer, basketball, and baseball), and dorm parent in Atwood dorm, where I live with my dog, Mia. My favorite memory from my time at Hebron is the 2019-20 Boys Basketball Team. We had a great group of seniors who all bought in and led us to the MAISAD Conference Title Game and NEPSAC Tourney. As fun to coach as it was to be on a bus with. A fun fact about me is that I covered every piece of trail on Mount Desert Island (which is home to Acadia National Park) in the summer of 2020.
There are no events to display
Alumni Success at the Next Level
We are proud to see our student athletes compete at the collegiate level!